The Nazareth Evening News
April 10 @ 7:00 pm

-

9:30 pm
In response to the Governor Inslee's mandate regarding gatherings as a result of the COVID-19 Virus, this event has been postponed until further notice.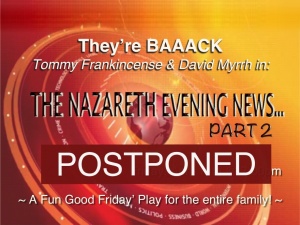 The Nazareth Evening News is on location in Jerusalem covering the Passover Celebration. The Passover, also known as Pesach, is a Jewish holiday that lasts for eight days to commemorate the freedom of the Israelites from the Egyptians. God helped the people of Israel escape-with the leadership of Moses-by casting 10 plagues on Egyptians so they would release them from his reign.
Worshippers come from miles around, filling the city of Jerusalem to participate in the celebrations.
As the reporters are covering this holiday, they began to hear stories of the man or prophet called Jesus being raised from the dead. With the stories increasing and an excitement about this possibility from his followers.
Join Tommy Frankinsence and David Myrrh along with their on the scene reporters Jack, Suzanne and Salah as they set their sites on finding the men and women of God who saw and had an encounter with Jesus after he was resurrected