Welcome to the Tacoma Christian Center Nursery Ministry!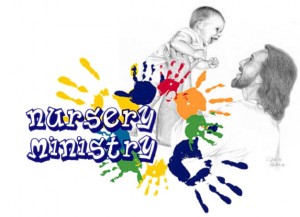 Luke 18:16
But Jesus called them to Him and said, "Let the little children come to Me, and do not forbid them; for of such is the kingdom of God."
Our Vision:
We share the love of Jesus & open the door of opportunity for others to use their gifts to bless the children of TCC.
Our main purpose is to teach the little ones that God is Love through interactive play, crafts, games, music and Christian videos. Our desire is for TCC members and visitors to enjoy service knowing that their little ones are being well taken care of and shown the love of Jesus.
We have a Mother/Baby room available for newborn through 6 months as well as three additional rooms:
Dreamland (7 –23months)
Pooh Room (2-3 years)
Lion and Lamb Room (4-5 years not yet in Kindergarten).
In Dreamland we:

Hold and Comfort
Rock and Cuddle
Crawl and Climb
Laugh, Creative Play
Give bottles and Sippy cups
Diaper (optional: parent contact)

In Pooh Room we:

Creative Play and Interactive Play
Begin friendships
Learn about Jesus
Read Stories
Color

In Lion and Lamb Room we:

Creative and Interactive Play
Make Friends
Learn about Jesus
Read Stories
Do Arts and Crafts
Color
Watch Movies
The success of the nursery is largely due to the help and support of our parents. We welcome all volunteers. Please complete a Ministry of Helps application if you are interested in serving in the nursery.
Come and have fun with us!!!!!